Submit your questions to The Goodies...
21/05/2018 02:59 GMT

Posted by JG_PeckinPahs
From Graeme's and Network DVD's twitter feed.

'THE GOODIES ARE COMING FOR YOU, AND YOU, AND YOU...
... and they want your questions.
Send your question, together with your name, to: TheGoodies@networkdistributing.com
Questions must be received by 29th May.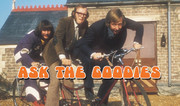 These will be put forward to the chaps on 7th June at Leicester Square, London, for 'An Audience with The Goodies'