The Goodies in Mail on Sunday's 'Event Magazine'
15/09/2018 13:11 GMT

Posted by JG_PeckinPahs
There is a huge spread in The Mail on Sunday's EVENT magazine containing a fantastic interview , with also The trio making the front page too.

Some great photos, including one with The Guys standing with (THEE) Trandem.

The interview is quite big for this feed, But I will post it up instead in the forum.


But here is the front page of 'EVENT'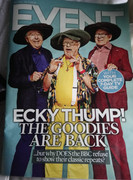 https://www.dailymail.co.uk/home/event/article-6159025/The-Goodies-Python-rivalry-famous-fans-BBC.html